Top gun is considered as one of the most super hit American movies of the time of 1986 directed by Tony Scott in an association with paramount pictures.

The movie also got criticized by some people but the love and fame the movie gained from the rest of the world get over the hatred. The acting and performance of the lead actor "Tom Cruise" was remarkable and praised not only by Americans but by people of other countries as well.
Tom Cruise played the role of LT Pete "Maverick" beautifully satisfying all the requirements of the character aesthetically. Everybody has known that Tom is the man of words and an astonishing actor with extraordinary skills when it comes to stealing the show as well as the hearts of the people watching him on screen.

He has the magical talent of impressing the audience every time either by his acting and fighting skills or by the way he dresses up in his shows.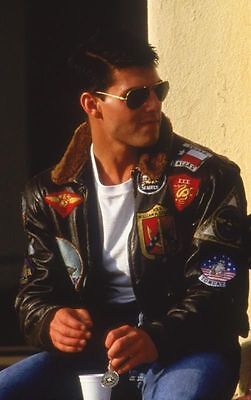 We know that tom cruise is a source of inspiration for nearly everyone whether a boy or an adult. No one in this world is going to miss the chance of looking to some extent like their favorite movie or gaming dramatis personae. You might have seen him carrying a fabulous jacket having a unique and marvelous vogue that keeps the people tantalizing and envy in getting a similar one for themselves.
The top gun pilot jacket is surely for those who want to grab the vogue that is glorified by almost everyone. The jacket is advocated not because it has worn by a famous TV actor but because of the really exhilarating attributes, it possesses. LeatherJacket4 has designed a jacket of this sort having almost all the features faithfully reproduced. The pilot jacket is endowed with a total of 17 patches and tags collectively on the front as well as on backside that is faithfully reproduced like the original jacket exhibited by the lead actor. The tags present on the jacket have undergone vintage treatment and look extraordinarily stylish and brings a nostalgic vibe at the same time.
It has been manufactured by genuine sheep leather and lined by shearling which makes it warm and cozy. It contains 3 pockets one with button closure, one has a zipper and a mobile pocket. Together these pockets make the outfit spacious so that all the prerequisite stuff could be kept on the go.

It also has inside core pockets that give it an aviator look.
In short, the outfit is an all-rounder and a gem in its own way. An additional feature that makes the pilot jacket ideal is the presence of rib-kits at cuffs and bottom making it worthy and best fit to almost all body shapes. Notwithstanding being the outdated outfit based on the early 60s specification, it's eye-catching design and all living style is still prevailed.