B3 bomber jackets have their foundations with the British army of the Royal Air Force at the time of world war II. The warriors of the army used to fight with an act of inevitable courage and bravery therefore, the war was a manifestation of their invincible strength and confidence. They took part in the battle with remarkably astonishing enthusiasm and never thought once before sacrificing their lives for the nation. Primarily, these jackets were worn by the troop to keep themselves warm and composed during the unrelenting and discourteous chilly atmosphere in thousands of meters above the ground. To date, these jackets have become an imperative part of the fashion industry and are perceived as signature winter attire.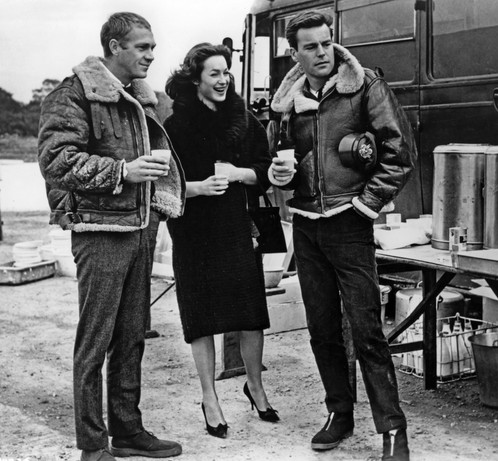 Since the jacket was wrapped by the soldiers in high altitudes, the jacket is considered as ideal apparel made for thwarting the cold breezes away which of course intensifies its importance in the fashion industry. For sure the B3 aviator pilot jacket is an epitome of safety and serenity but now it is considered as a glam element. It wouldn't be mistaken to declare that today almost every Hollywood actor or model possesses a B3 RAF aviator bomber jacket.
Leatherjacket4 has designed an RAF aviator faux fur shearling leather jacket by getting stimulation from the Royal Air Force. The jacket has been stitched by using superior quality leather in a nice brownish hue. The jacket is internally overlaid with soft and luxurious faux fur shearling to provide you ultimate warmth and protection. The B3 aviator sheepskin faux fur shearling men leather jacket has a lapel collar with an asymmetrical zipper that justifies the layout of the jacket in an aesthetical manner. The two handwarmer pockets of aviator flight jacket make the attire highly substantial allowing you to carry your belongings with you.
Some other attributes of the RAF aviator pilot jacket aid in maximizing the charm of the jacket like endowment of the belt and buckles on the sides of the hemline, regular sleeves with closed cuffs and a sleek design that goes well with any combination of clothes. All in all, you can carry in this jacket freely on any occasion at any place regardless of your age or body type. The B3 bomber jacket is an embodiment of style and endless comfort that lets you acquire tranquility and makes you the center of attention wherever you go.